The lounge is another part of the house that has undergone a significant transformation under new ownership.
The room has been equipped with sufficient seating to accommodate a house full of guests, but it does not feel cramped or constrained. With the introduction of dimmable lighting and some lamps a whole range of moods can be achieved. It can provide a cool retreat during a hot Andalucian day and can equally be cosy on a chilly winters evening. There is air conditioning and heating provided by a fully programmed and adjustable radiator as well as the charm of the log burner.
The lounge opens into the indoor dining area as well as the external Moroccan terrace. It is not unusual for people to pop in from the terrace to take an update on the football scores. Which brings us onto the TV.
The lounge features a wide screen Smart TV which allows you to connect to your own personal Tv accounts such as Netflix and Amazon Prime (it may not connect to services operated by national TV broadcasters). There is also a facility to connect to the TV via USB or HMDI cables which are situated beneath the TV. There is also a DVD player and a small collection of DVD's available in the house. For those who are more technically aware, please feel free to connect to our IPTV service and Plex system which can give you access to TV in the UK and USA, as well as a selection of popular TV shows and movies for you to stream on demand.
The lounge is a lovely place to sit back and relax and enjoy our prints of Seville and Cordoba.
Other posts you may enjoy :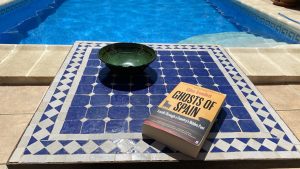 Ghosts of Spain – Giles Tremlett If you want to understand Spain and the Spanish –  their quirks, culture, contradictions and passions, then Giles Tremlett's comprehensive analysis is available on the Casa Uno bookshelf. Running
Read More »