History, food, wine, sea, sun, sand and carnivals – what more do you want ?
While we often discuss on this site the cities that make up Andalucía's 'Golden Triangle', the magic of the region is that there are countless other towns and cities that all have their own unique appeal and charm. Many of them are also easily within the range of Casa Uno.
One such special place is Cádiz. This is one of the most ancient trading ports and cities in the world and is a very special and historic place. Although undoubtedly still a very popular destination with tourists, it tends to be more of a holiday resort for the Spanish, as the connections for international travellers are not easy and need a bit of careful planning. Equally, with so much to see in the province of Andalucía, 1 – 2 days in Cádiz is normally sufficient. This is where Casa Uno comes into its own !! Besides being well connected for the big three cities of Seville, Cordoba and Granada, the costal town of Cádiz is only a 2 hours 15 minute car drive away, meaning that it is possible to go there and back in a day.
One highlight is the 'Carnaval of Cádiz' which takes place during the last weeks of February to early March each year. The whole town takes part and as the sun goes down the local groups and choirs provide impromptu entertainment, while the numerous external pop-up bars provide easy access to much needed refreshment. It is very hard for a Brit to remember that this is still the month of February as short sleeves and shorts at 10pm are normal attire for this time of year in Cádiz!!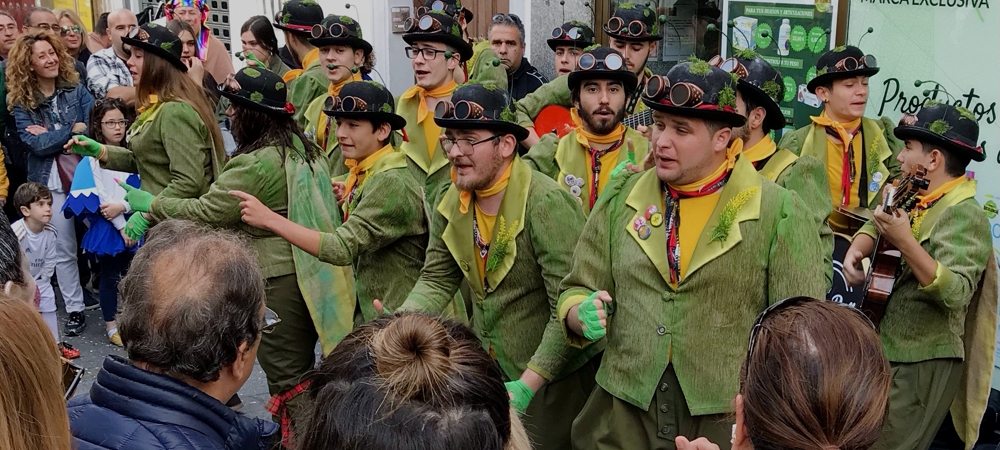 Of course, this is a seaport and has the fishing economy to go with it. In the heart of the old town is the most fabulous food market – Mercado Central de Abastos. It serves as a wonderful reminder of what local markets and local produce should be all about. Don't worry if you can't buy some of this produce to cook and try for yourself, the four walls that surround the market, both inside and outside, are packed with bars, cafes and restaurants that serve an unbelievable variety of mouth-watering food and drink. Everything from a full meal to a light refreshment and a tapa. However, our personal recommendation is a bar just North of the market – Casa Lazo. This place seems to be full of locals. It has an original and lively atmosphere, and the food was some of the most authentic and tasty we had. They are not catering for tourists. Finding a place to sit at lunchtime can be a bit of a challenge, still in our opinion it's worth it. While you wait for your beautifully cooked lunch (I had Cod loin last time) why not have a small racion of Ham and a glass of Ribera del Duero.
Cádiz really has something for everyone. Below are some of the things we enjoyed and which we would recommend. If you find something special, please let us know.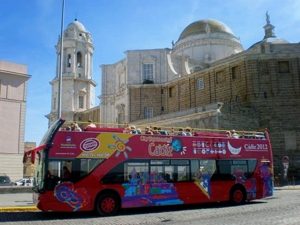 We don't often recommend the tourist bus service, but in Cádiz it is worth it. It is a deceptively large peninsular and offers something for everyone – history, gastronomy, aquatic activity, beautiful beaches and it is also a fantastic place for a short holiday. The Bus will give you a full sense of the location, and therefore places that will appeal to you, where you can also take advantage of the benefits available to locals. Many bars and restaurants in particular are mainly focused on serving Spaniards. You can therefore get a much better breakfast, lunch or dinner at a far better price than you would do in some of the more obvious tourist locations.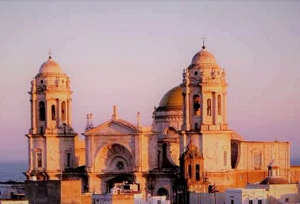 Even this holy place has the feel of a church on holiday. While the Catholicism is hard to avoid, the domes and sun kissed walls give it a much less austere feel. The local prison, which is situated on the coast wall, looks like a lovely place to be locked up!!! It is hard to believe that anyone who visits Cádiz and takes photographs of their visit doesn't have at least one photo of the Cathedral.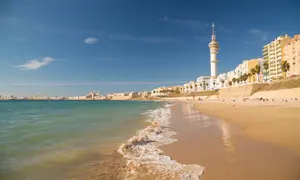 These beaches are very popular with both tourists and Spanish alike. However, no self-respecting Spaniard would consider it appropriate to get into a bathing costume before July at the earliest. By this time the temperatures are too much for any Northern European to withstand. Even at the time of Carnival in February the temperatures are equivalent to those of May and June in the UK, yet the golden sands of Cádiz are relatively empty. In our view, given the comparative distance of both destinations, if we were looking for a day on the beach we would head for Cádiz rather than Malaga.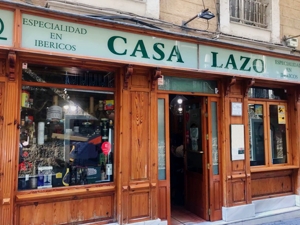 This is our favourite place to eat. If is busy, lively, noisy, atmospheric but very welcoming. Like any good Spanish bar, it has a good selection of beers and wines. You can easily find yourself paying a few euros for a glass of wine that is much better than anything you can find in some of the more expensive restaurants anywhere in the world. The kitchen is constantly busy and produces some of the most flavourful food we experienced in Cádiz. The bar manager is very attentive and has that unique skill of making time for everyone while constantly moving and keeping everyone happy. 
Calle Barrie 17, Cadiz 11001

Prices From :
These prices are indicative. The full cost of your holiday will be confirmed. Please use the 'Enquire' option on the Availability Calendar.
January to March

- €800

Easter

- €1,000

April to May

- €1,000

June

- €1,200

July to August

- €1,700

September

- €1,200

Oct to December

- €800

Xmas & NYear

- €1,000
Your perfect base to explore Andalucia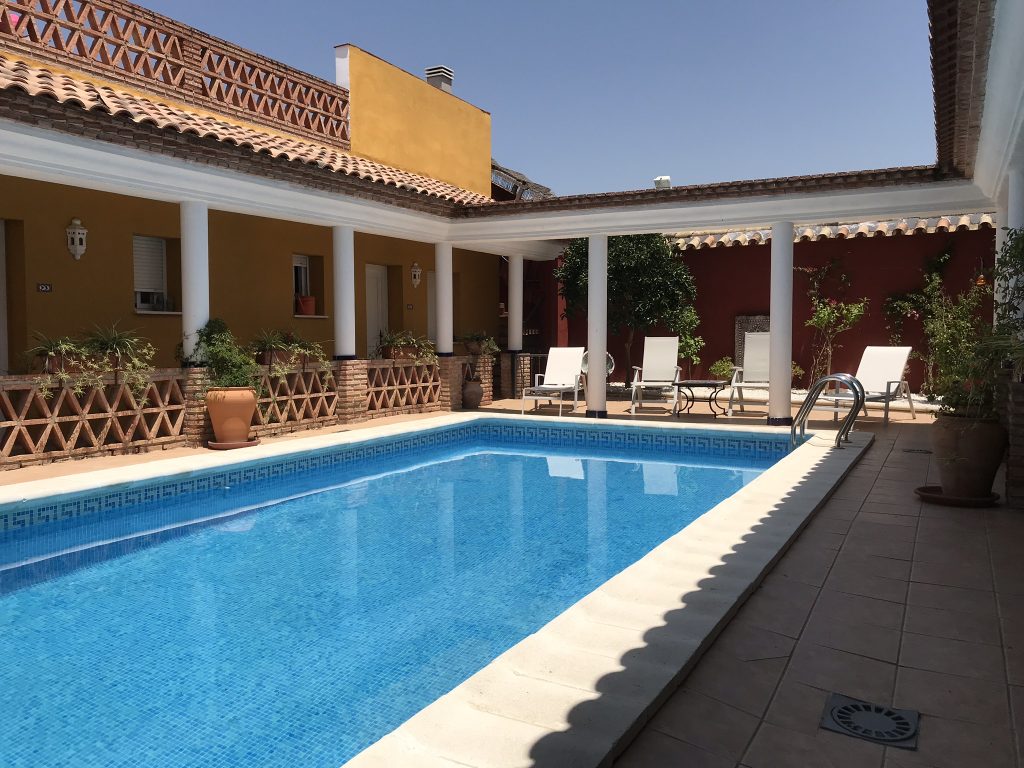 Casa Uno is a beautiful private holiday home situated in a quiet hilltop village. It is ideally suited to visit Seville, Cordoba and other local historic towns and villages.
Cádiz and Jerez (which is in the province of Cádiz) are only a couple of hours drive away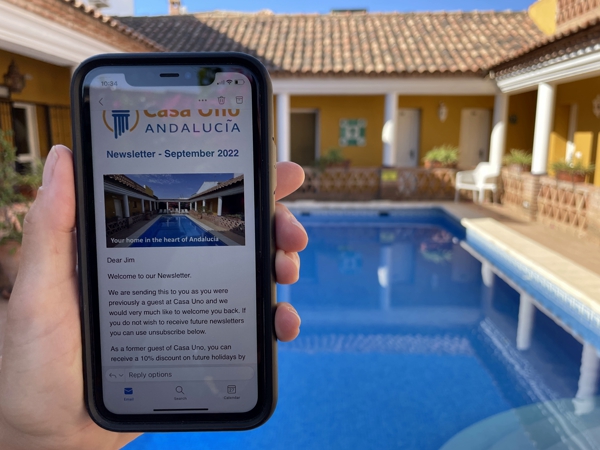 Use the form below and start receiving information on : 
House Updates
Early Notice of Special Rates
Local News
Events and Ferias
and much more . . .all delivered direct to your device.
Cádiz lies South West of the rental villa of Casa Uno. It is a 231km drive (144 Miles) with lots of interesting places to stop of on the way if you wish. It is easy to find with our without a Sat Nav. It is sign posted all the way as soon as you leave Casa Uno and get onto the A4 following the directions to Seville.
A relatively simple drive which is clearly indicated following the motorway signs. 
Bus connections do operate between La Carlota and Cádiz. However it is a long journey. Further details and coach timetables can be found on the ALSA website
If you intend to catch the train then direct connections are available from Posadas. However the time for the journey varies depending on service you select. We recommended you check timetables before you travel
If Fiestas are your thing, then Cordoba is your place. When the main Feria of Cordoba takes place in mid to late May it is said there is no vacancy in the city, so make sure you book early. There are many attractions throughout the year including the world renowned Guitar festival which features all styles of guitar playing. Paco de Lucía, Carlos Santana and B.B. King among many other well known names have played the event. The beautiful Fiesta of the Patios is one of Cordoba's main attractions.  
This is a celebration across the whole of Andalucía, held to celebrate the region becoming an autonomous community of Spain on 28th February 1980. On this day most businesses and shops will close. Look out for local towns holding Carnivals and other events to mark the day
A 10 day festival of music, dance, humour and fun. This is one of the worlds best know Carnivals. Carnaval starts the weekend before Ash Wednesday, which marks the beginning of Lent. You will find wandering groups of choirs and 'Chirigotas' who will bust into a performance on any available street corner.
Holy week is going to be a big event in any minor Spanish village so big cities like Cádiz will really put on a performance. This will undoubtedly involve processions of statues from smaller churches ending up in the Cathedral. It's the same every year but the Spanish always come out for it.