BY AIR
Most UK-based low-cost airlines fly to Málaga (AGP) – from here, it is just under two hours to the hilltop village of Las Pinedas by road. To book a pick-up from Málaga Airport and be taken directly to Casa Uno use the following link : www.solhop.com/airport/malaga
If you have a few hours to spare before check-in the Historic town of Antequera is en-route.
EasyJet, Ryanair, Vueling and Iberia fly to Seville (SVQ) – one hour on to Las Pinedas. Again, if you have time to spare Carmona is well worth a visit.
Alternatively if you were to fly to Madrid (MAD), take the Metro or a taxi to Atocha Railway station, you could then board the high-speed AVE train to Córdoba – 450 km in 1 hour 40 minutes. Seats on the AVE should be booked in advance. Turista class is cheapest, Turista Plus a little more comfortable, Preferente class gives best value, including free drinks and a light meal en route. The older Alvia trains are almost as fast and cost slightly less. Booking starts six weeks before the date of the train journey. Travelers aged 60 and over are entitled to a Tarjeta Dorada (Gold Card), which at the cost of a few euros entitles you to a 40% discount on all trains Monday to Thursday and a 25% discount Friday to Sunday. It may be possible to arrange a pick-up for you at Cordoba station. Please talk to us before booking.
Cars can be hired at all these destinations – Córdoba station, and a wider range at Seville and Málaga airports. As there is no public transport to Las Pinedas, you will certainly need a hire car to enjoy your holiday. Taxis are also available in the area.
BY ROAD
Allow the better part of three days for the drive straight from UK to Andalucía using Eurotunnel or a car-ferry and the European motorway system: From experience it will take some 21-23 hours of driving at normal motorway speeds. Remember that in addition to fuel, you will need to budget for motorway tolls.
The overnight ferry from Portsmouth to St Malo (P&O) is the most civilised way to enter France by sea – leaving the UK early enough in the evening for a relaxed dinner and arriving in France late enough next morning for an un-rushed breakfast and an hour less to drive.
Ever faster ferries from Plymouth to Santander (Brittany Ferries) and Portsmouth to Bilbao (P&O) may cut your journey time to nearer two days, including a single very long day's drive across central Spain if you are so inclined – if not, Toledo is an enchanting city for an overnight, with an excellent Parador hotel overlooking the historic old town.
BY RAIL
With the extension of Eurostar's full service into St. Pancras it will be possible to travel by high-speed train all the way from London to Córdoba, via the overnight Eurotrain sleeper from Paris Gare St Lazare to Madrid – leaves at 7.30 pm, dinner on-board, arrives at 9.15 am – an adventure to savour.
Prices From :
These prices are indicative. The full cost of your holiday will be confirmed. Please use the 'Enquire' option on the Availability Calendar.
January to March

- €800

Easter

- €1,000

April to May

- €1,000

June

- €1,200

July to August

- €1,700

September

- €1,200

Oct to December

- €800

Xmas & NYear

- €1,000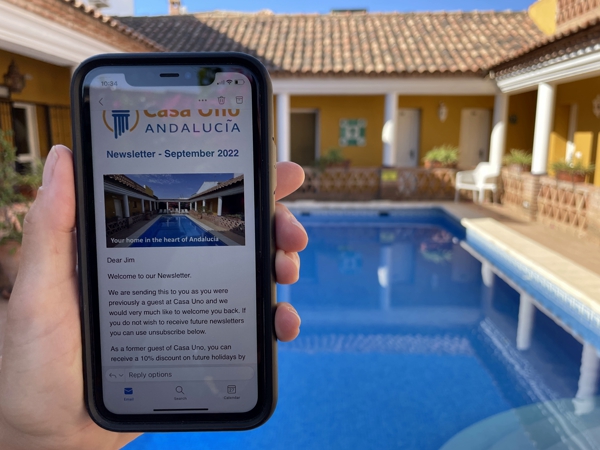 Use the form below and start receiving information on : 
House Updates
Early Notice of Special Rates
Local News
Events and Ferias
and much more . . .all delivered direct to your device.