Cordoba – the Moorish Capital of Spain​
With a history dating back more than two thousand years, the centre of Cordoba still feels like an ancient city.
Cordoba can date its history back to Roman times, through the Moorish civilisation and the transformation to Catholicism. Cordoba is the only city in the world to host four world cultural heritage sites.
Cordoba can boast to be the Moorish Capital of Andalucía. It is a compact town with lots of bars, restaurants and shops to keep everybody happy. Lots of the medieval town walls are still standing and in good condition and much of Islamic Cordoba still survives. They give an impressive feel to the City. Its centre is dominated by the hugely impressive mosque – La Mezquita which is only a stones throw from the Roman Bridge. Lots of cafes and bars are on hand to provide some refreshment for the weary traveller.  If you are looking for something nice to cook on the Barbeque then a visit to the impressive 17th century Plaza del la Corredera is worth a visit, particularly the indoor food market which is a regular with the locals. Cordoba was a spot of peaceful coexistence of three different cultures: Jews, Muslims and Christians – an example to us all.
There are so many attractions and things to do in Cordoba that it could almost be possible to do something different each day depending on your mood and the things you want to do. However we will list here the ones that would feature on most tourist visits to the city.
Cordoba is a compact city and most places of interest are accessible via a leisurely walk. So in no particular order
1. La Mezquita (Mosque / Cathedral)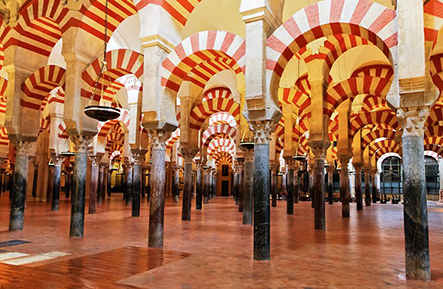 Stand by to be amazed, delighted and possibly outraged by Cordoba's main attraction. Although now technically Cordoba's Cathedral, the locals still refer to it as the mosque – La Mezquita. Entrance is via a beautiful garden lined with pine and orange trees, shadowed by an impressive bell tower. Once in the Mezquita you cannot fail to be impressed by its sheer size and apparent open space, created by the use of hundreds of arches. It would be impossible to guess just how many people could have filled this vast space.
However, with the arrival of the Christians the building was soon used as a place of Christian worship. To that end the ancient centre of the building was demolished to make room for a huge Christian Cathedral in the traditional style. Some people see this as a tremendous feat of engineering, others as cultural vandalism – the choice is yours.
2. Alcazar of the Christian Monarchs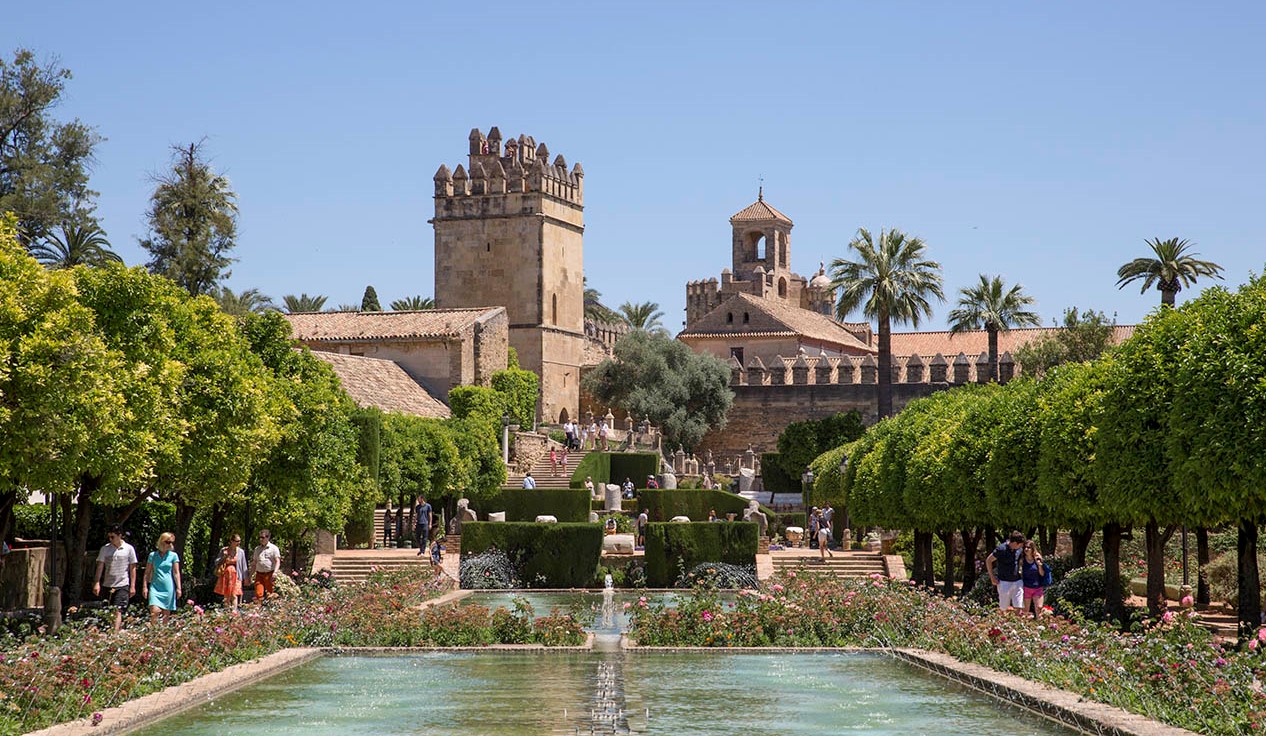 Originally built by Alfonso XI in the 14th Centaury, this impressive palace and gardens has had many owners, perhaps most ominously it was the Court of the Spanish Inquisition – I bet you didn't expect that !!
This is also the place where the Catholic Monarchs received Christopher Columbus and where they planned to retake Granada when it fell to the Moors. The impressive buildings, including the oldest the Lion Tower, are well worth a visit, making sure you don't forget to visit the Royal Baths in the basement and the spectacular Hall of Mosaics.
Finally, once outside you can wander around the beautiful cool gardens and relax. They would be an ideal place for a picnic lunch.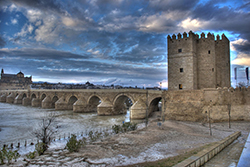 The old Roman Bridge joins the Islamic heart of Cordoba to the Arenal and Archangel areas of town. A walk across the bridge is recommended as invariably something is happening on it. Whether it is local artists and musicians plying their trade, or local groups and drum troops marching to celebrate a local fiesta or Andalucía day, it is the centre of what is happening in Cordoba. In the middle stands a statue of the City's patron saint – the Archangel Raphael (he pops up in a few places !!) devotional lights are regularly lit by both inhabitants of Cordoba and visitors. The bridge can be a good place to see a spectacular sunset over the old town.
4. Cabaileriza's Reales ( The Royal Horse Stables)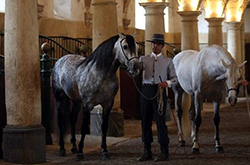 So much attention is paid to the Bull, that it is easy to forget that the Spanish also have a deep passion for the horse. This imbalance is more than corrected in Cordoba. These beautiful stables were built in 1570 by King Philip II. His aim was to create a pure Spanish thoroughbred breed, although in truth the Andalucian stallion has its roots in Arabia. This is the home of beautiful animals that perform perfect dressage routines where man and horse appear to be as one. Like most of Cordoba's main sights, the stables are only a short walk from the Mezquita and are not to be missed.
5. Flamenco at the Arab Baths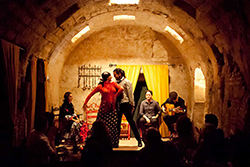 Here is an opportunity to immerse yourself (pun intended) in some real Spanish culture.
If you are looking for authentic Flamenco performed by local people, then Cordoba is the town to go to. Furthermore, while there are plenty of Flamenco houses, attending the show in the town's still working Arab baths provides an extra bit of magic.
As a special treat, why not pamper yourself with a massage and a dip in the thermal pool. A truly spectacular treat in beautiful surroundings.
Prices From :
These prices are indicative. The full cost of your holiday will be confirmed. Please use the 'Enquire' option on the Availability Calendar.
January to March

- €800

Easter

- €1,000

April to May

- €1,000

June

- €1,200

July to August

- €1,700

September

- €1,200

Oct to December

- €800

Xmas & NYear

- €1,000
Your perfect base to explore Cordoba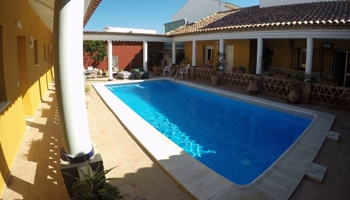 Cordoba is the closest of the big three cities to the Casa Uno holiday rental. It is situated approximately 34km East of Casa Uno – that is approximately 21 miles. However, it is an easy drive for those going by car as the nearby A4 will take you all the way there
A relatively simple drive which should take approximately 30 minutes –  Free Parking is usually possible close to the Archangel shopping centre which is only a 10 minute walk from La Mezquita
A direct bus service operates between La Carlota and Cordoba. Futher details and timetables can be found on the Carrera website
There are no railway stations at Las Pinedas or La Carlota. you would therefore need a 20 minute car journey to get to the nearest station at Posadas. As Cordoba is only a 30 minute drive away this would seem pointless
If Fiestas are your thing, then Cordoba is your place. When the main Feria of Cordoba takes place in mid to late May it is said there is no vacancy in the city, so make sure you book early. There are many attractions throughout the year including the world renowned Guitar festival which features all styles of guitar playing. Paco de Lucía, Carlos Santana and B.B. King among many other well known names have played the event. The beautiful Fiesta of the Patios is one of Cordoba's main attractions.  
This is a celebration across the whole of Andalucía, held to celebrate the region becoming an autonomous community of Spain on 28th February 1980. On this day most businesses and shops will close. Look out for local towns holding Carnivals and other events to mark the day
Although this is clearly a celebration across the whole of Spain, the Holy Week processions and events are truly spectacular. The week runs from Palm Sunday to Easter Sunday and processions of floral bound floats carried by the brotherhoods from numerous churches make this an event that people come the world over to see. Cordoba is usually fully booked during this week, so Casa Uno could provide access as well as somewhere to escape to and relax when the heat gets too much