Our Frequently Asked Questions [FAQs]
Below are some of the more regular questions we get asked about staying at Casa Uno. If you have a question that is not shown below, please let us have it at info@casa-uno-spain.com
No – the house is completely private and exclusively yours. You do not share with anybody. This means that if only 2 people stay at the house they have it all to themselves.
The price is for the whole house whether one person is staying or a group of 8. So, if the price is €1,200 for the week and 2 people go, they will get the whole house for €600 each, however if 8 people stay then the price works out at €150 per person for the whole week – we think that is an absolute bargain !!!
Yes – the pool is heated via an air source heat pump. We heat it to 30°c although this can't be guaranteed as it will depend on weather conditions on the day and how you use the pool. We provide a cover so that heat can be retained overnight. We do not heat the pool in July or August as guests don't require heating during these months.
It does depend on the disability so please talk to us first. In general much of the house is on the ground floor. We only have one bedroom / bathroom that is upstairs, the other three en-suite bedrooms are by the pool. There are also stairs to the roof terrace, but it is possible (and for many preferable) to sunbathe by the pool. The outside Moroccan Dining area is also on ground level. All doors are standard widths, but wheelchair access to the house and the pool area is available via the kitchen which has double doors onto the village square and double doors from the kitchen out to the pool area.
If you are going to get about locally (i.e. go to shops / bars etc) then there is precious little public transport available. Of course we have a phone numbers for local taxi drivers who would be more than happy for your business. So, it would be possible to get a taxi to and from the Airport and then use taxis for small local journeys. However, we always hire a car and we find the following companies good and reliable :
Seville Airport : OKmobility
Malaga Airport : Helle Hollis
Yes – The house is situated in a small hilltop village. It has one bar and shop. We encourage guests to use these as much as possible as it brings much needed business to the village. Many guests also like the authenticity of the bar and always say how welcome they were made to feel. However, the local town of La Carlota (which is a 7 minute drive away) is full of bars, restaurants and shops. Mainly it is local Andalucian fare, but there is also a great Pizza restaurant as well as kebab  – if you must !! There are several supermarkets, but again we would suggest it is more fun, cheaper and supports the locals to use the smaller green grocers, butchers and fishmongers. The produce is usually better too !
No – For most it is just too far to walk. Although it is a very quick taxi ride, we estimate it would take the best part of an hour to walk home – it would also be dangerous too. A local taxi costs around €10.
The swimming pool measures 8 metres by 3.7 metres (26 feet by 12 feet) approximately.
The shallow end is 1.2 metres (4 feet), and the deep end is 1.6 metres (5¼ feet).
The house is available from 16.00 on the day of your arrival. One of our team will be there to meet you, give you the keys and check you in.
On the day of your departure, please leave the house by 9.30 as this allows our team time to prepare the house for the next guests.
All main rooms in the house and all bedrooms have air conditioning, as well as stand alone fans.
We hope you will find all you need in the kitchen. Our guests often compliment us on the comprehensive range of kitchen equipment that is available. We also provide enough basics, such as kitchen roll and washing up liquate to hopefully keep you going for at least the first few days.
In terms of electrical equipment, there is a microwave, toaster, kettle, as well as a cooker and dishwasher.
No you do not need to bring your own towels – we provide both bathroom towels and also swimming pool towels, as well as all the bed linen.
Yes – the house has two entrances and there is normally parking at both. The double door entrance is situated on the main village square which always has ample parking (except at annual fiestas [Easter] and Feria). It is possible to put two or more cars directly outside the house on the main square, but we would ask guests to be considerate of our neighbours.
Your perfect base to explore Andalucia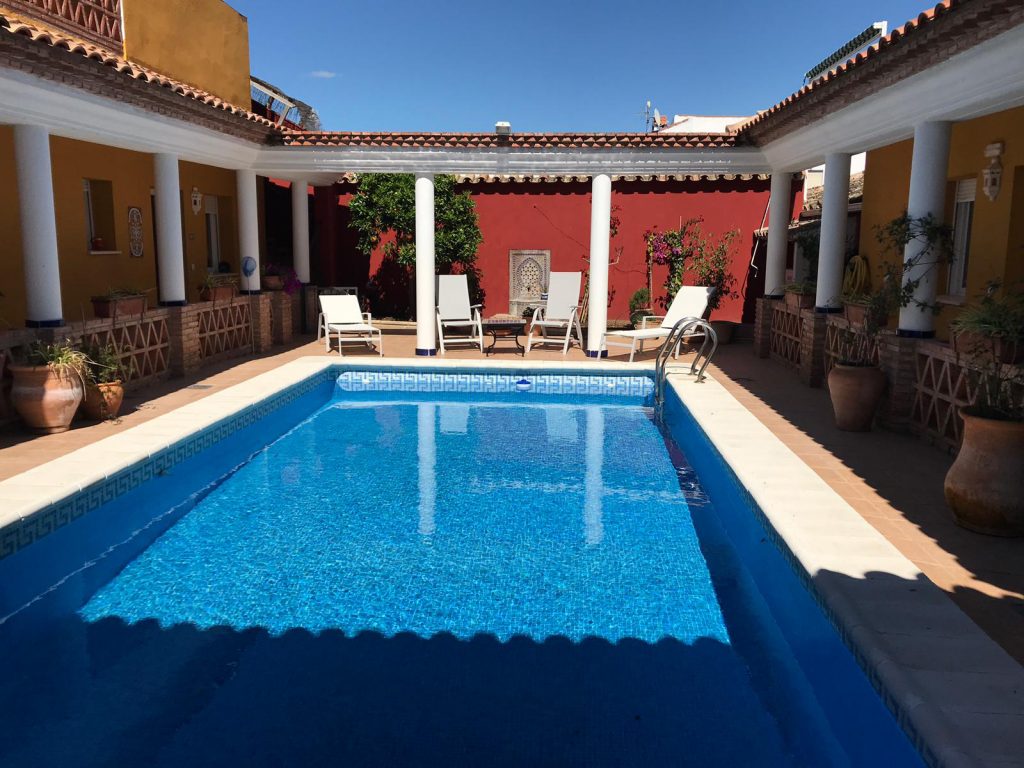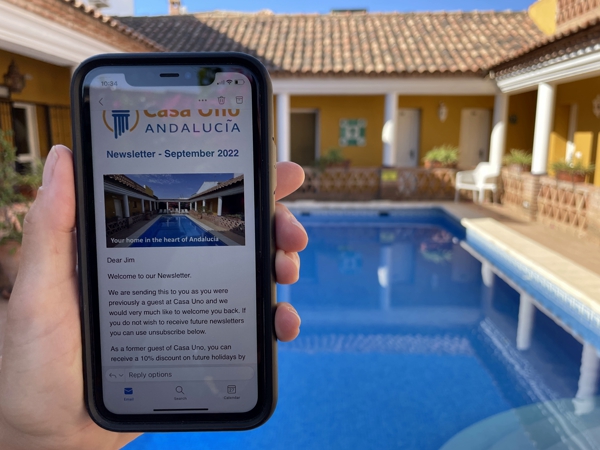 Use the form below and start receiving information on : 
House Updates
Early Notice of Special Rates
Local News
Events and Ferias
and much more . . .all delivered direct to your device.
Prices From :
These prices are indicative. The full cost of your holiday will be confirmed. Please use the 'Enquire' option on the Availability Calendar.
January to March

- €800

Easter

- €1,000

April to May

- €1,000

June

- €1,200

July to August

- €1,700

September

- €1,200

Oct to December

- €800

Xmas & NYear

- €1,000