Seville is the capital city of Andalucia
A visit to Seville is highly recommended as it truly has something for everybody.
Seville is just under an hour's drive from Casa Uno and isn't too bad for parking, given it is a big city. It is usually possible to find some free parking in the Plaza España area, which is a must do on any visit to Seville. From here it is a short walk to the centre of town.
The city centre is dominated by a magnificent Cathedral which is well worth a visit, if only to see the impressive tomb of Christopher Columbus. For a spectacular view then a climb to the top of the accompanying bell tower 'La Giralda' is a must. There are no steps – just lots of slopping corridors !!!
With the Moorish Real Alcazar, one of the best bullrings in Spain, the Torre del Oro (Tower of Gold) and many other interesting and unusual places to visit, with excellent bars, restaurants, food markets and more ceramic than you have ever seen, Seville is a major tourist attraction and an excellent day out.
There are so many attractions and things to do in Seville that it could almost be possible to create a new one each day depending on your mood and the things you want to do. However we will list here the ones that would feature on most tourist visits to the city.
Seville is a compact city and most places of interest are accessible via a leisurely walk. So in no particular order :
1. Cathedral and Giralda Tower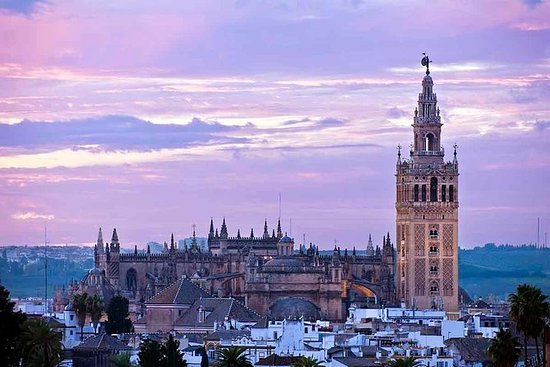 We have put these two together although it is possible to visit one and not the other – we have !
The Cathedral dominates the centre of the city. In fact it is the third largest cathedral in the world. Like many Christian churches and places of worship in this part of Andalucia, the building now stands on the site of a previous Moorish mosque. Even if churches are not your favourite thing, it is worth a visit to see the truly spectacular tomb of Christopher Columbus. The Giralda is the Cathedral's bell tower, which is still fully operational so be sure to time your visit carefully if you don't want to be stuck at the top with the bells ringing. However it is the place to go if you want spectacular views across the city. If the idea of climbing several hundred steps in the sweltering Seville sunshine puts you off, then you are in for a pleasant surprise – There are only 17 steps !! Gentle sloping pavements wind their way up the tower, which is big enough to take a fully mounted horse and rider.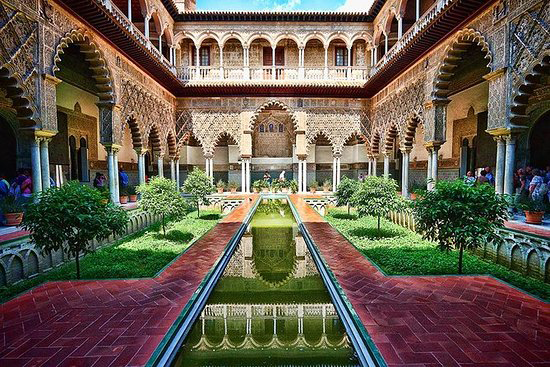 Don't be fooled into thinking this is an original Moorish building, it was built by Pedro, long after the Christians had retaken Seville. Although the Moors had gone, the passion for their architectural style and design remained and in fact remains to this very day. Here you will see beautifully decorated courts and rooms, all with intricate tile work. You will get an appreciation of design that allows light and shade to play seamlessly with each other, creating a feeling of cool in the Andalusian sun. The attached gardens are again well worth a visit, with many pools and fountains.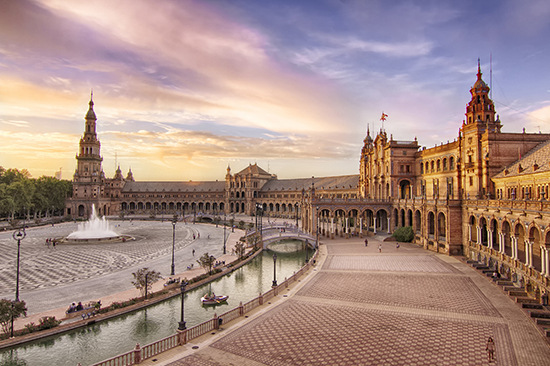 This spectacular area was built in 1929 when Seville hosted an Ibero-American exposition. As the idea was to showcase the whole of Spain, each province and region is represented by ceramic frieze featuring the insignia, flags and other tokens relative to the region. There is usually some historic event relevant to the region depicted.
For some while the area was left disused and a little run down, but in the last 10 years or so it has seen a significant revival. Boats can be hired to sail in the moat that runs along the front of the edifice. It is also common to have impromptu flamenco shows take place. If you take a horse drawn carriage for a tour of the city, you will undoubtedly be paraded around this wonderful Plaza.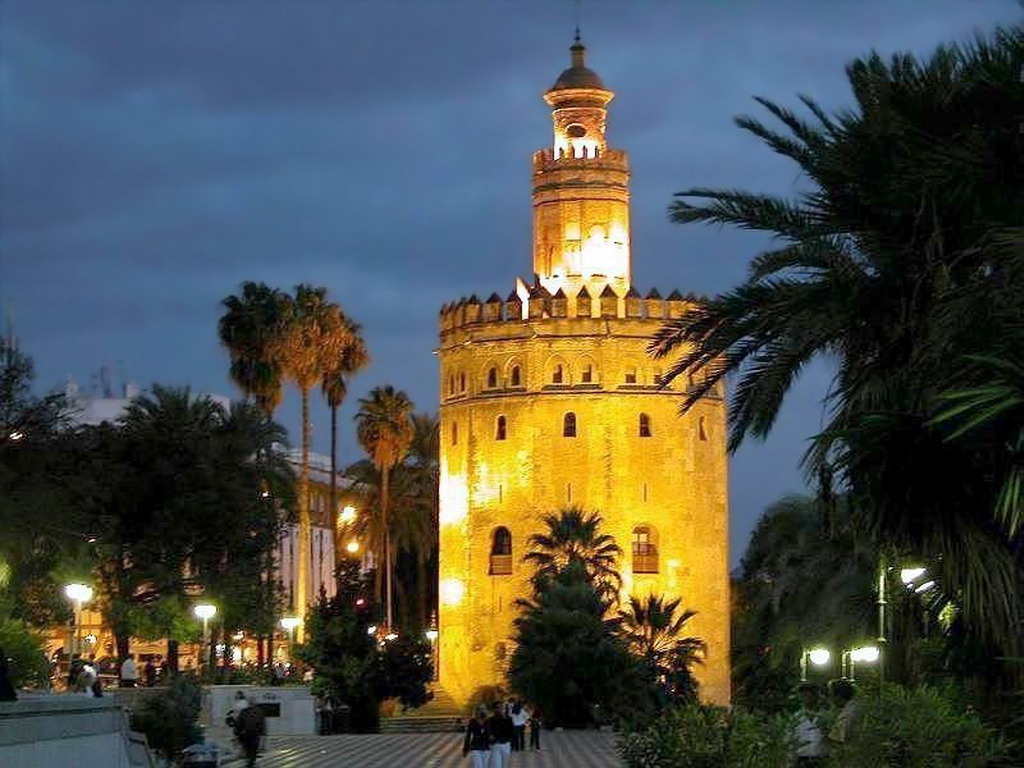 The 'Tower of Gold' stands close to the river and is one of the iconic landmarks of Seville.
Originally built by the Moors it had a purpose of protecting the city from attacks by the Christians, by the means of a chain that was attached to an identical tower on the other side of the river which when pulled taught would have frustrated any attack from the river. Obviously this ultimately failed. When taken by the Christians they used it as a repository for their New World treasure.

Food Tip : After your visit cross the San Telmo bridge and make your way down Calle Bettis. Only a very short way down is La Primera del Puente. Here you can eat fish and chips (and much more) in the locals tapas style. The price of what you order will be written down on the counter in chalk before you. Keep eating and drinking until you are full or have run out of money !!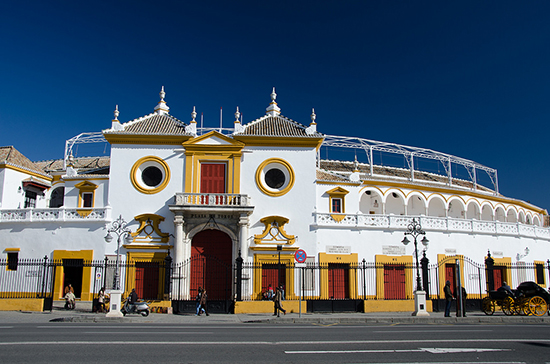 Even if you do not like bullfighting, a visit to this museum will go some way to explaining the passion, paradoxes and sheer obsession that the Spanish have for bullfighting and their love for the torro ! From an exquisite chapel, where the matador can offer up prayers for his protection before the corrida, to a fully equipped operating theatre if his prayers go unanswered, the museum provides a fascinating insight into an event that has been occurring at this site since 1750.
Your perfect base to explore Andalucia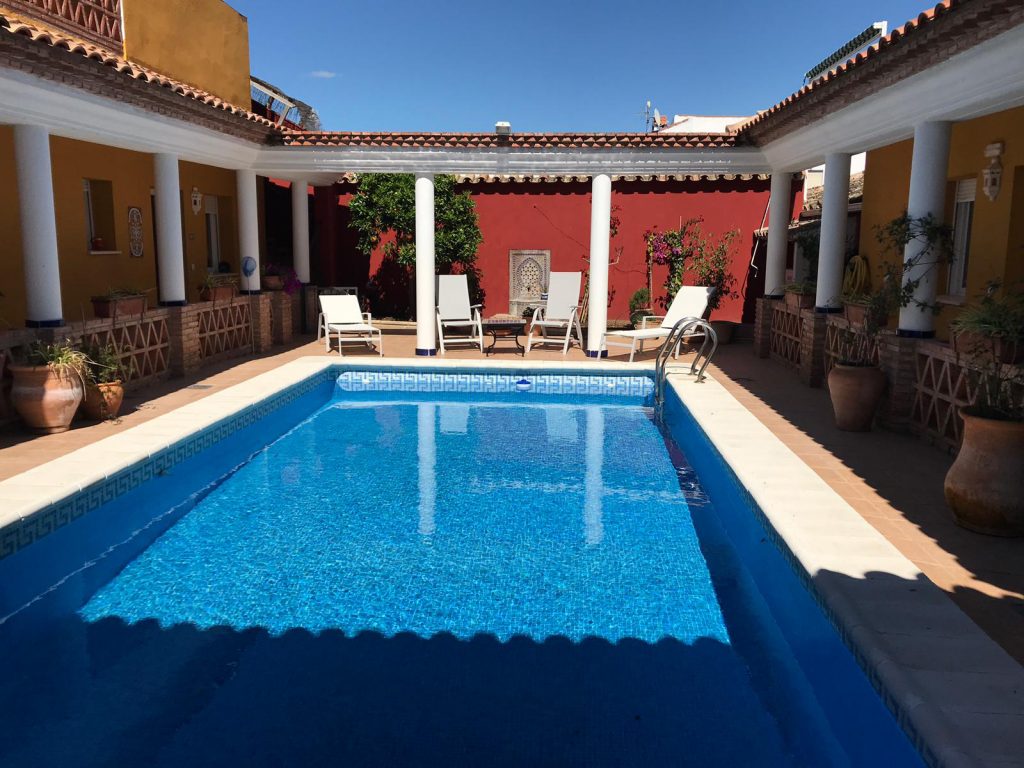 Seville is situated approximately 107km East of Casa Uno – that is approximately 66.5 miles. However, it is an easy drive for those going by car as the nearby A4 will take you all the way there
A relatively simple drive –  Free Parking is usually possible close to Plaza Espania
Buses to Seville and many other places are available from the local town of La Carlota. Tickets can be purchased on-line from the ALSA bus company
There are no railway stations at Las Pinedas or La Carlota, but trains run between Cordoba and Seville every 30 minutes
When it comes to a proper big Spanish Festival then Seville can certainly compare with the best. It seems that the party lasts all day (and all night) long !!! From the youngest chica to the most senior Señora, the streets are full of women clad in vibrantly coloured Flamenco dresses. They even give their dance its own special name 'Sevillanas'
This is a celebration across the whole of Andalucía, held to celebrate the region becoming an autonomous community of Spain on 28th February 1980. On this day most businesses and shops will close. Look out for local towns holding Carnivals and other events to mark the day
Although this is clearly a celebration across the whole of Spain, the Holly Week processions and events are truly spectacular. The week runs from Palm Sunday to Easter Sunday and processions of floral bound floats carried by the brotherhoods from numerous churches make this an event that people come the world over to see. Seville is usually fully booked during this week, so Casa Uno could provide access as well as somewhere to escape to and relax when the heat gets too much
This is the big one !! – don't be fooled by the title, the Fiesta of April can also take place in May, so make sure you check your dates before booking. The key is that the Feria normally falls 2 weeks after Semana Santa. This has the lot – fireworks, dancing, food, drink and, of course, bull fighting ! It is also a place to see many aspects of equine care and display, another passion of the region
Prices From :
These prices are indicative. The full cost of your holiday will be confirmed. Please use the 'Enquire' option on the Availability Calendar.
January to March

- €800

Easter

- €1,000

April to May

- €1,000

June

- €1,200

July to August

- €1,700

September

- €1,200

Oct to December

- €800

Xmas & NYear

- €1,000