Casa Uno boasts a fully equipped kitchen so that you can prepare the means you want for your family and friends. However, we do suggest you try your hand at some quick and tasty local recipes. Nothing delights your guests more than some tasty small treats and we are featuring some of our favourite recipes. This is one of the easiest tapas to make as it only uses 2 main ingredients, nevertheless it packs a real tasty punch.
A very simple yet delicious tapas recipe – Asparagus wrapped in Serrano ham (Espárragos y jamón serrano)
If you like things a bit spicy, you can use chilli oil instead of olive oil.
Another alternative for extra flavour is to grate manchego cheese over half way through the cooking time.
And if you don't eat ham, roasted asparagus by itself is equally as wonderful.
Ingredients:
Asparagus
Serrano ham / prosciutto
Olive oil
Salt flakes for serving
Method:
Preheat your oven to 220°C


Submerge the asparagus in water which has just boiled for 2 minutes to part cook them.
Drain the asparagus spears and wrap with ham. If your ham slices are very large, you may only need to use half a slice per spear. Roll on the diagonal to fully wrap the asparagus.
Place each wrapped spear on a baking tray (make sure they aren't touching or they will steam instead of getting crispy)
Drizzle lightly with olive oil (or chilli oil) and fresh black pepper (don't add extra salt as remember the ham is salty)
Bake for 10 minutes in the middle of the oven and if not yet browned, turn the heat up until golden on top.
Remove and let cool slightly.


Serve with a few salt flakes on top.
Other posts you may enjoy :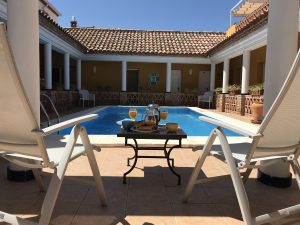 We are delighted to have purchased Casa-Uno – a house that we have loved from afar for many years. While the house is already beautify we plan to make a few cosmetic changes to make
Read More »