Ghosts of Spain – Giles Tremlett
If you want to understand Spain and the Spanish –  their quirks, culture, contradictions and passions, then Giles Tremlett's comprehensive analysis is available on the Casa Uno bookshelf.
Running to some 450 pages, this is a substantial read. The book covers the aftermath of the Civil War and the scars that still run deep with many today. It discusses the political tensions that rage in some parts of the country that are seeking independence from Spain and provides some interesting food for thought. As an example the most vociferous and occasionally violent of these separatist regions is the Basque Country (autonomous community). In this region only approximately do 30% of the people speak the Basque language Euskera. Paradoxically, 80% of the Gallegos from the Galicia region of north west Spain speak their historic language and yet undoubtedly see themselves as Spaniards.
The countries passion for flamenco is covered in detail as is an apparent acceptance of easily recognised and gawdy lit brothels that litter the motorways of Spain. Our own local Scandalo even gets a mention.
This book will give you a very good understanding of Spain and may also excite you enough to visit many of the places mentioned. The book focuses on the 2 Spain's that seem to have been ever present particularly since the Civil War.
A good read.  
Other posts you may enjoy :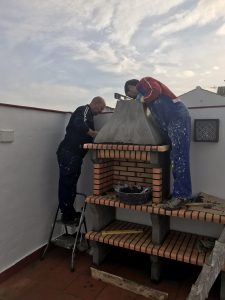 There is nothing better than a proper Barbie when on holiday !!​ Here we can see Lolo and 'dangerous' Fran putting the finishing touches to the new barbeque which we hope will be an added
Read More »